---
Laminine®
Buy with confidence and enter the comfort zone.
Laminine contains the proprietary LifePharm fertilized egg powder with quality fish and pea proteins. The essential amino acids and special proteins support many cell functions.

Have severe pain? Taking 2-4 capsules per day for 30 days is the best way to experience the fastest results. After that, many customers reduce to only 1-2 capsules per day to maintain wellness. 
UPDATE (July 2, 2020): Fulfillment and shipping times are back to normal. Recent overwhelming demand for LAMININE, had set back delivery dates for a few weeks. Things are back to normal now and you can expect your order to arrive within 7 days of placing an order.
30 count

*120 count option also available. 

Customer Reviews
Write a Review
Ask a Question
08/09/2020
Amy F.
United States
Taking Laminine pills
Ivebeenonproductlittleover a week AND a half..no real changes yet.
08/08/2020
Brenda S.
United States
It helped some but not enough for what I have
08/05/2020
Jackie D.
United States
Tried and True
I've been on the product a couple of months it does work and has relieved back hip and knee pain. The proof is in the pudding. Jackie in Wyoming
07/31/2020
Anne S.
United States
It seems to help
I've been taking Laminine for about 4 months now (4 a day) because I have RA especially in my knees the worst. It seems to help. My RA doctor wants me to have a knee replacement in one knee which at 70 plus years I just don't want to do. I can walk with a cane fairly well now and without much pain at all. I got this because it says it will help rebuild stem cells which will in turn help rebuild the cartlidge between my joints. I believe it is doing that slowly. At my age anything is an improvement. When I first started my pain level in my knees was awful. Now 4 months later and still taking 4 a day the pain level is much less although still there. At least I can walk with the cane and I told my RA doctor, no way to the knee surgery. At my age, I don't need to go through that and I believe the Laminine is helping me to avoid surgery. It's not a "miracle pill" and I don't expect a miracle but at my age, any improvement is a small miracle.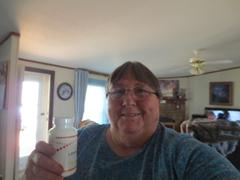 07/31/2020
Teresa C.
United States
---